Villagers in Sri Lanka Learn to Solar Cook
Sri Lanka is in many ways ripe for solar cooking. Much of the region receives a good amount of annual sunlight. A large percentage of the population lives in rural areas and uses ever-diminishing supplies of wood for cooking fuel. Forest cover has dropped to 17 percent, from an estimated 84 percent of the island's land area in 1880. In urban areas, those who have access to electricity or gas have found these fuels increasingly expensive since the deregulation of the energy sector. Also, due in large part to a lengthy civil war, there are now hundreds of thousands of refugees living in the northern and eastern parts of Sri Lanka that have little income and limited access to cooking fuels.
It is for these very reasons that Mr. E. Abeyrathne contacted Solar Cookers International (SCI) in January 2000 asking for advice. He wanted to know how his non-profit organization, EMACE, could best begin to teach the people of Sri Lanka how to cook with the sun. After a few months of correspondence with SCI, Mr. Abeyrathne used SCI's e-mail solar cooking discussion group to post a request for an experienced solar cook to come to Sri Lanka to help EMACE begin a project. It just so happened that two Canadians, Lee Sentes and Kathleen Manion, were looking for such an opportunity. They had just returned home from working on a small solar cooker feasibility project in Madagascar and had lots of experience to share.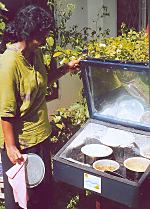 The Sri Lanka project commenced in December 2000 with the arrival of Lee and Kathy. The main focus of the project is to provide skills training to EMACE and to villagers in four districts around Sri Lanka: Anuradhapura, Kurunegala, Puttalam and Hambantota. The criteria used for village selection included amount of sunlight throughout the year, difficulty in acquiring fuelwood, levels of deforestation, and villager incomes. Workshops have been conducted in all of these areas, in which villagers, NGOs and community-based organizations (CBOs) have been given training on how to use, build and maintain solar box cookers. A couple of larger solar box cookers have been built to meet the needs of families living in refugee camps. These cookers can be used by multiple families simultaneously and could possibly be used as a solar bakery for community income generation. Public interest is quite high due to television, radio, and newspaper publicity. Says Mr. Abeyrathne, "The response itself has been overwhelming at times. Following a workshop in Hambantota, the CBO responsible for its organization received over 300 letters of inquiry." Furthermore, EMACE has, over the years, established relationships with a large number of NGOs, CBOs, and women's groups throughout Sri Lanka, helping to further spread the word.
EMACE has found an excellent carpenter to build cookers, and hopes to create a manufacturing and distribution center for solar cookers and solar technology products in the capital city of Colombo. The proceeds from the sale of cookers (approximately US $20 each) and other products would be cycled back into the project, allowing it to possibly be sustained and hopefully expanded.
Like most projects, there have been challenges. Mr. Abeyrathne writes, "What has been discovered during the workshops has been a keen interest by participants and a desire to try the cooker at their own home. This interest means that the initial introduction of the cookers has been quite easy. What is far more difficult is convincing people to use the cooker as much as possible. Cooking time (using the box-style cookers that are easily constructed and promoted during the workshops) is greatly increased in the solar cookers. Therefore a meal that would take 30 minutes to prepare over an open fire, may take 1 to 2 hours in full sunlight. This necessitates a great change in how meals are prepared."
Another challenge has been funding. Some funds have been provided by the Sri Lanken/Canadian High Commission Small Grants Program and by the Kitchener-Conestoga Rotary Club. Additional funds are needed, as are volunteers.
Nearly 50 solar cookers have been made and distributed to established village groups thus far. Because the cooker design is simple, it is more easily replicated in villages at a reasonable cost.
Contact: Mr. Abeyrathne, EMACE, 15 Mihiri Place, Asiri Uyana, Katubedda, Moratuwa 10400, Sri Lanka. Tel: 94-1-612837, fax: 94-1-610080, e-mail: emace@slt.lk; L. Sentes and K. Manion, 9 Senrab Street, Stepney Green, London E1 0QE, United Kingdom.
Note: the e-mail discussion group can be joined through the SCI website at solarcooking.org or by sending an e-mail to solarcooking-l-subscribe@igc.topica.com from your computer.
---
Solar cooking sites in Sri Lanka

Puttalam
Anuradhapura
Kurunegala
Hambantota
Moratuwa – Emace (local NGO / manufacturer)

Dimensions:

Width 65 cm
Height (back) 32 cm
Height (front) 14 cm
Glass window 65 x 59 cm
Reflector 65 x 48 cm