Pati Ruiz and a citizen effort spearheaded by the Sierra Gorda Ecology Group (Grupo Ecológico Sierra Gorda) have, through a long process of negotiation, created the one-million acre (383,567-hectare) Sierra Gorda Biosphere Reserve to protect Mexico's most eco-diverse region. Thanks to their leadership, this unique environmental treasure is protected, and damaged areas are beginning to recover.
At the same time, the Sierra Gorda region has become Mexico's leading model of active participation — and heightened awareness — by rural residents in both community development and conservation of natural resources. This is a truly remarkable achievement in a remote region that has suffered generation after generation of destructive socioeconomic development. The Sierra Gorda is a region of extreme poverty and population pressure on the natural resources is heavy, inefficient and often inappropriate.
The successes in the Sierra Gorda are inextricably intertwined with the remarkable story, and character, of Pati Ruiz. Before tackling the problems and opportunities of the Sierra Gorda region, Pati remade her own life, and the life of her family, by abandoning a comfortable upper-class lifestyle in the city for a self-sufficient, rural existence in the Sierra Gorda.
Within three years of her arrival, Ruiz was mobilizing friends and neighbors to fight the ongoing destruction of the region's environment. This has proved to be a great challenge, because there is a growing population of about 100,000 persons distributed throughout the region in 600 small communities. Most of has poor roads, no electricity and no telephones.
Reversing a Downward Spiral
Within this population, a profound ignorance has dominated the traditional exploitation of natural resources through subsistence farming. There has been a general lack of awareness and respect for nature, and an absence of sustainable alternatives to human activities that were damaging the environment. The result has been an impoverishing downward cycle as a growing population that lacks productive skills increases its pressure on natural resources.
Because flora and fauna have been unprotected, the prospect of irreversible damage to the environment was very real. Wood is harvested as the principal cooking and heating fuel. Rich natural forest areas in the Sierra Gorda also have been cleared, often illegally, for marginal agricultural production and livestock grazing, resulting in soil erosion and impoverishment, and a loss of wildlife and plant species. Approximately 15,000 acres (6,000 hectares) of forest are cut each year in the state. Rain and wind carry away many tons of topsoil annually from every acre of land farmed in the mountains.
In addition to increasingly restricting and isolating plant populations and the wildlife that depends on it for habitat, this destruction of the natural ecosystem has contributed to climate changes that are causing a loss of precipitation and dropping water tables. Loss of tree cover has reduced water retention, which is lowering the recharge rates of the underground water table. In some areas, water sources are being reduced or are disappearing altogether.
Due to ignorance good waste management practices, chlorine, automobile fuel and oil, detergents, garbage, litter and contaminated drainage have been allowed to pollute water drainage systems, and this pollution is compounded by conditions of drought and forest fires. Virtually all of the mountain surface water is polluted from human waste, contaminating drinking-water sources. The common practice of using open garbage dumps, and an absence of public sewage systems in villages has harmed both the human and wildlife populations.
As the land and water resources are depreciated, agricultural yields decrease and poverty, with all its attendant ills, increases. Ruiz and the Sierra Gorda Ecology Group are working to develop small, sustainable enterprises that can sustain a growing population, and the environment on which it depends, in the long run.
Three-Part Strategy
They are following a three-part strategy: protecting and renewing soil, plants, forests and wildlife; creating a sustainable culture through environmental education and job skills training; and strengthening the community through training for self-sufficiency. In the process, they have created a model of conservation and community development that can be replicated throughout rural Mexico — or the world, for that manner — particularly in mountainous ecosystems that share common problems and challenges, such as the urgent need to restore damage to the environment, manage solid waste, conserve firewood, develop forest plantations, establish community organizations and participatory surveillance, fight poverty through strengthening of community self-sufficiency and provision of the training and equipment needed for economic diversification, and above all, to strengthen grassroots organizing.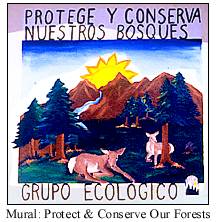 Ruiz began from the premise that the natural environment on which the inhabitants of the Sierra Gorda depend is even more important for peasant farmers and laborers than it is for the professional classes more typically associated with conservation organizations. She founded the Sierra Gorda Ecological Group as a grassroots social movement focused squarely on the region's poor majority — their practical needs and concerns, and what they need to learn.
The Sierra Gorda Ecology Group has demonstrated how to build environmental awareness while fostering the active collaboration of students, local residents, teachers, regional, state and federal governments, and national and international foundations. It has consulted to more than 30 non-government organization that need this information.
In 1993, the Group received the Querétaro State Ecology Award. In 1995, Ruiz received the Ashoka Fellowship for her innovative vision and approach to sustainable development in the Sierra Gorda.
In 1977, the government of Mexico created the Sierra Gorda Biosphere Reserve, and in 1999 the Group was presented with the Ecological Excellence Award by Mexico's President, Ernesto Zedillo. The Group was contracted by the World Bank and the National Ecology Institute of Mexico to provide the official Management Program for the newly established Sierra Gorda Biosphere Reserve. The plan specifies that the 70 percent of land in the Sierra Gorda which is in an undisturbed, natural state will remain protected.
At the same time, the Sierra Gorda Ecology Group drafted a Regional Development Program, which requires that all activities involving government funding must meet sustainabilty criteria. This program was developed through a process of popular concensus that involved all levels of society in some 250 workshops and meetings.
In recognition of Ruiz's efforts and in-depth knowledge of the region, she was made the director of the Sierra Gorda Biosphere Reserve. She works with a staff of 47 who manage the reserve, most of whom are from the Sierra Gorda Ecology Group.
Harnessing Grassroots Energy
The Group provides the organizational infrastructure for the management of the Reserve, and given this role, it works in close partnership with Ruiz as Reserve Director. Through a collaborative agreement with Ruiz's office, the Group is given responsible for a variety of programs, including environmental awareness education, reforestation and regeneration, forest fire prevention and control, green house/ nursery plant production, soil conservation, wildlife protection, environmental sanitation, epidemic control, surveillance for violations of Biosphere Reserve regulations, and ecotourism.
The foundation for these efforts is environmental education. Ruiz has found that educating students is a highly effective way of changing attitudes and practices of the entire population, because they embrace the effort with such enthusiasm, winning many converts for her ideas. The Sierra Gorda Ecology Group members, most of them volunteers, give classes to students throughout the region. The Group recruits, trains, and supports the volunteer teachers, providing them with instructional materials.
Ruiz also makes vigorous use of public events and all forms of media to educate the community at large through the media and at community events. Ruiz has a weekly half-hour radio show in which she exposes environmental abuses, entertains with environmentally informative stories, and generally provides useful advice. This show is highly popular, and Ruiz has become something of a folk hero in the region for her vigorous criticism of governmental inattention to the environment. It is said that the state governor never misses her show.
The Sierra Gorda Ecology Group keeps a booth in the region's many periodic open air markets through which it sells energy-conserving stoves and odorless latrines, while promoting good environmental practices more generally. The sales of odorless composting latrines and wood-conserving stoves have not only improved waste management, reduced pollution, helped create fertilizer, and saved trees — these sales have provided revenues for the education program, which in turn creates more demand for the latrines and stoves.
The ongoing work of Pati Ruiz and the Sierra Gorda Ecology Group demonstrates that development efforts can — indeed must — be pursued in harmony with protection and reclamation of the natural environment. By tapping and directing the energy of the Sierra Gorda's inhabitants, they are building a sustainable community of persons, plants and animals that serves as a model for other regions.
==> The original article, including an audio interview with Pati Ruiz, can be found on the Changemakers.net web site