Cooking by direct energy from the sun now has a secure foothold in Mexico. This is the result of a successful three-week training program by Solar Household Energy (SHE) Inc. in the Sierra Gorda Biosphere Reserve. SHE introduced 30 prototype HotPot panel solar ovens in this large mountainous conservation district to enthusiastic residents.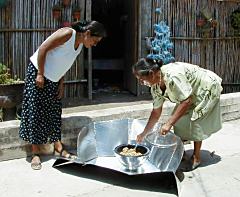 The initiative, funded by Mexico's Fondo Mexicano para la Conservacion de la Naturaleza (FMCN), took place in May. It was inspired by the fact that the cost of the wood and gas traditionally used for cooking in Sierra Gorda, is on the increase. Louise Meyer, a founder of SHE Inc. and an accomplished solar cooking instructor, conducted the program. "I was gratified by the warm reception I received in Sierra Gorda, and by the eager acceptance of solar cooking," Meyer says. "We trained 17 women to use the HotPot, two of whom were also trained to be solar cooking instructors. This insures the initiative will be self-sustaining."
Adds Lorenzo Rosenzweig, FMCN's Director General, "The success of this effort is significant. It shows that solar cooking can play a very important role in improving the quality of life for residents of nature reserves like Sierra Gorda. It can also reduce the burning of wood and therefore help protect environmentally sensitive areas."
Lorenzo arranged for the HotPot to be manufactured in Monterrey, Mexico. The device is composed of a five-liter black enamel steel pot suspended in a covered tempered glass vessel and surrounded by a foldable solar reflector.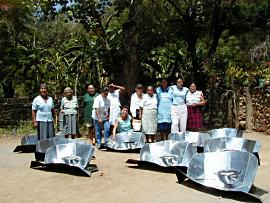 Meyer conducted training in two communities of the Sierra Gorda Nature Reserve: Purisima, with a population of approximately 4,000, and Mavi, a village with only 62 homes. Women were selected for the training program by the staff of Grupo Ecologico Sierra Gorda (GESG), which manages the nature preserve. Several members of GESG's staff were also trained to use the HotPot.
Staple foods in Purisima include beans and chili sauce, eggs, pasta, dehydrated soy, vegetables and meat. Training began at 9:30, according to Meyer. "Women also brought lentils, chicken, beef, brown beans and black beans," she says. "They were in the habit of cooking together and helped each other prepare the different dishes."
The trainees cut the chicken and beef into small pieces, added potatoes, zucchini, nopales (cactus), onions, crushed chili and tomatoes, and placed the contents into the solar ovens. As the cooking progressed, they learned how to periodically re-orient the ovens towards the sun to maximize cooking efficiency.
"All dishes were done by about 2:00," Meyer says. "And the women were always very pleased with the results."
Formal training took place in a community center. This was followed by repeated home visits to each participant to insure the lessons were learned. "After each woman had been visited, she would be so interested in how the others were doing, that she would join me on my visit to the next home," Meyer says.
Meyer even got her hotel restaurant's chef intrigued by solar cooking. "I solar cooked some banana bread on the balcony of my hotel room," she recalls. "It baked beautifully in two hours. When I invited the chef, Dona Tschomba, to inspect the results, she immediately asked if she could buy a HotPot."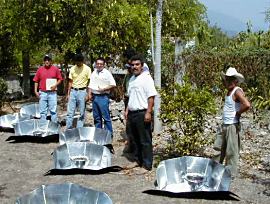 The two Mexican solar cooking instructors Meyer had trained conducted the second course in the community of Mavi. "All the food was out by 11:00 a.m. — two pots of lentils, two pots of tea, one of pumpkin seeds, tomatoes and onion soup, one pot of rice and one of beans," Meyer says. "Three hours later, tortillas were heated up, and everything was eaten." Subsequent home visits in Mavi followed the pattern of Purisima.
The enthusiasm with which solar cooking and the solar ovens were received led 'Paty' Ruiz Corzo, a founder and the manager of GESG to conclude that HotPots could be sold initially to at least 1,000 residents of Sierra Gorda's small communities.
Meanwhile, SHE Inc. is using feedback generated by the Sierra Gorda training mission and other field tests of the HotPot around the world to optimize its design prior to large scale production.

click here to download entire report.