HotPot demonstration at Google headquarters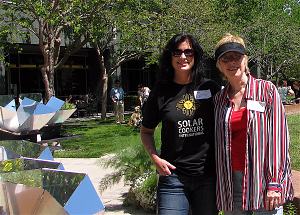 On April 22nd, solar cooker advocates gathered at Google Headquarters in Mt. View, CA. for a day-long demo organized by SHE Board Chairman Pat McArdle and Mark Aubin, the founder of Google Earth.   Google's own chefs cooked several varieties of chili in three Hot Pots and two Sun Ovens.  Paul Munson also baked cookies in his Sun Oven Villager, which he and Mrs. Munson brought all the way from Illinois.  Allart Lightenberg cooked chicken stew in his 20-year old cardboard solar box cooker and boiled water in a collapsable parabolic solar cooker which has been to the top of Mt. Everest.  SCI staff and volunteers came from Sacramento with Cookits, more parabolic and box cookers, hay baskets and plenty of delicious food for the Google crowd to sample.  Click here to read Solar Cookers International's story and see more photos of this event.
Karyn Ellis, Solar Cooker International's Director of International Program Development, and Pat McArdle, SHE board member, at HotPot demonstration at Google Headquarters in Mountain View, California.