Mexico: Scaling up Lorena Harp's Haines solar cooker enterprise
SHE first became engaged in promoting solar cooking in Mexico in 2003 after winning a "Development Marketplace" grant from the World Bank. Fifteen years later, 40,000 HotPotTM solar cookers have been disseminated worldwide, thanks to partnerships instigated by SHE. The HotPot, a "panel" design solar oven, was developed by SHE in collaboration with the Mexican Fund for the Conservation of Nature and the Florida Solar Energy Center in 1998. It is more economical than a parabolic oven, and cooks food in a way similar to a Crock-Pot.TM
SHE is currently supporting Mexican solar cooking expert Lorena Harp in her dream to bring solar cooking to the rural women of Oaxaca State through a sustainable social enterprise. She is introducing an affordable but durable panel-style solar cooker called the Haines Solar Cooker (HSC). Prior to launch of the initiative, Lorena conducted local market research and optimized the HSC for local consumer preferences. She then trained three rural women to become "solar cooking ambassadors" to sell HSCs for 500 pesos (about $25 USD) on a commission basis (earning 200 pesos, about $10 USD) to members of their communities and provide follow-up support to maximize adoption of this alternative cooking model.
Ambassadors reached their pilot project goal for solar cooker sales in May 2018 by selling more than four dozen units. They surveyed their customers on a monthly basis in 2018 to assess the success not only of the solar cooker, but of the ambassador model for marketing solar cookers, training customers, and ensuring their long-term satisfaction. These findings have served to improve the social enterprise model, and provide more opportunities for ambassadors to thrive, both financially and as environmental leaders in their communities.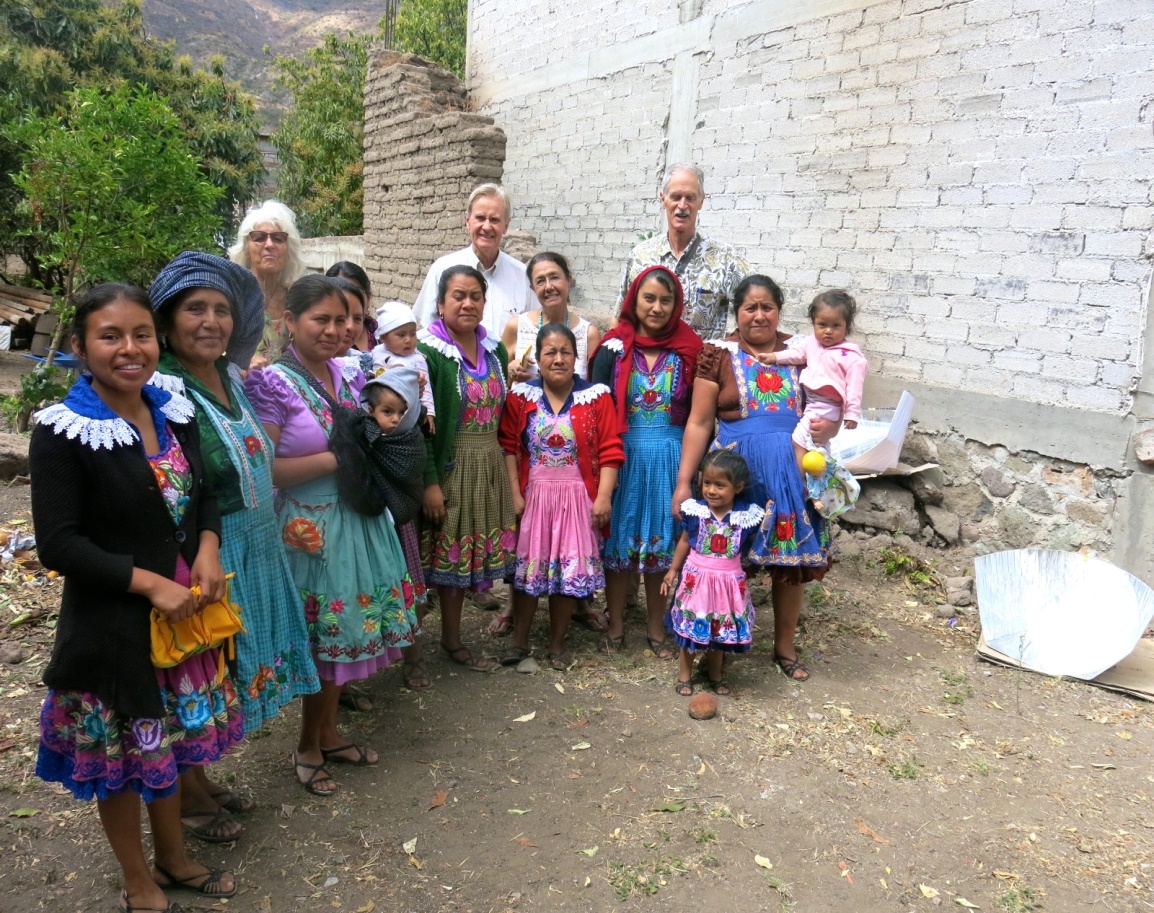 Oaxacan solar cooking ambassador Bibiana (2nd woman from right) with members of her community, welcoming visitors from Canada (back) and SHE Board member Margarita Battle (second from right in back). Bibiana has personally sold over 15 Haines solar cookers (right) on commission to members of her community.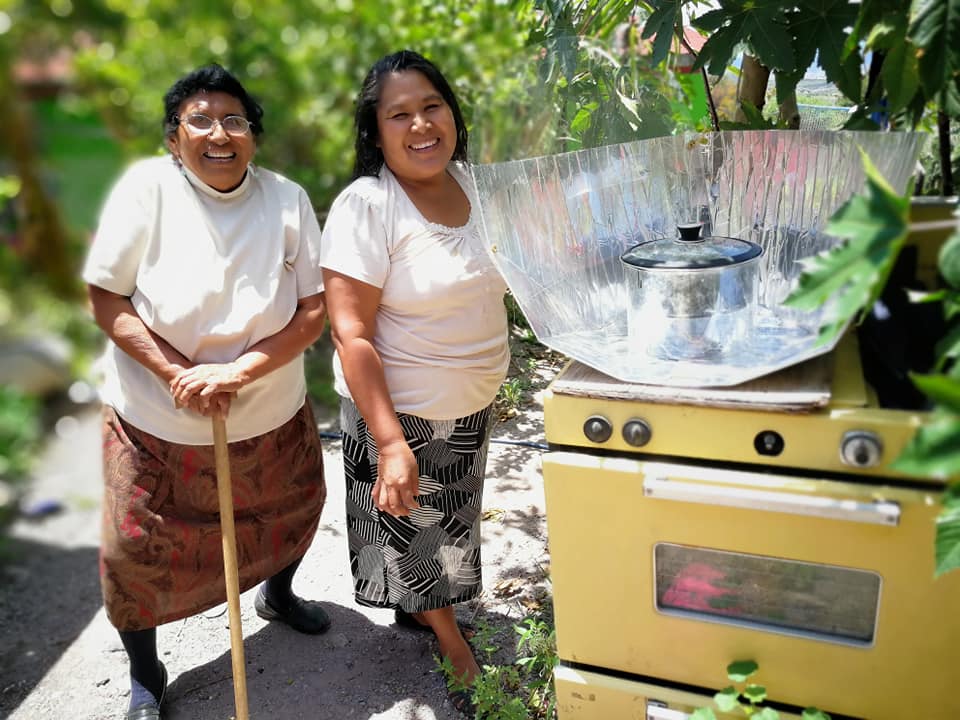 These social enterprise customers in rural Oaxaca love to solar cook, both to supplement, and sometimes replace, their gas stove and oven (notice the solar cooker's location)!  Photo credit: Lorena Harp for SHE
Lorena Harp, supported by SHE, is gearing up to sell 200 more solar cookers, manufacturing them locally.  Thanks to Roger Haines' technical expertise and generous discounted materials for raw materials (metalized polyester foam and polycarbonate) and tools (e.g., eyelet and snap button stamping machines), Lorena Harp has set up shop and manufactured 50 more solar cookers, reducing costs and moving towards social enterprise independence. As sales increase, SHE's subsidies will decrease, allowing the social enterprise to gradually gain financial independence. Read more about it here, see photos of the manufacturing process here and the latest market demonstration here.
Lorena has also been promoting the project at top levels, presenting at the Mexican National Association for Solar Energy, the National network of Women in Renewable Energy and Energy Efficiency, and receiving recognition for her work in the Chamber of Deputies of Oaxaca on International Women's Day. Her work was featured in various news outlets, including an  article in "El Universal,"  a major Mexican paper.  Read more about it here.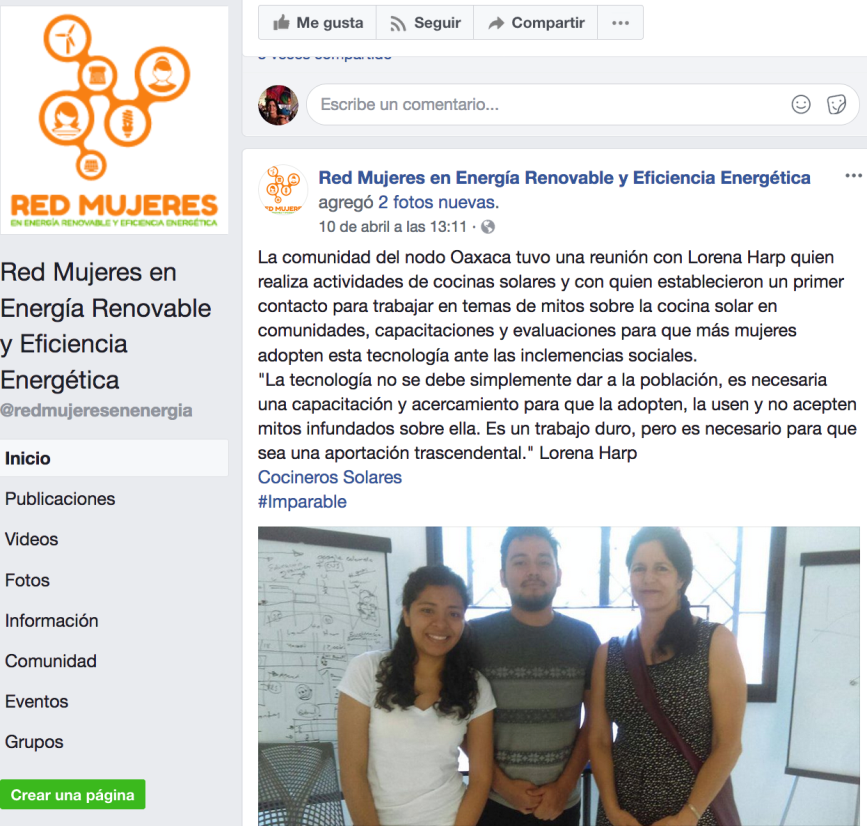 Lorena Harp (right) and her work promoted through twitter by the Network of Women in Renewable Energies and Energy Efficiency. Photo credit: RED Mujeres EREE