The HotPots of Mme Sissoko Aïssata Diarra
Posted on January 24, 2006
by Najiba Abdellaoui, odemagazine.com, January 2006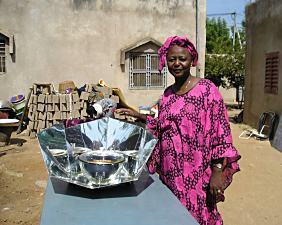 Mme Sissoko Aïssata Diarra is making a name for herself in global ecology circles as promoter of the HotPot initiative. HotPots are low-cost, easy-to-use solar ovens developed by Solar Household Energy (SHE), Inc. to save trees in Mali and other developing countries by lessening dependence on wood and charcoal.
How could Mali and the rest of Africa benefit from the HotPot?
Sissoko Aïssata Diarra: "Wood and charcoal are our principal sources of energy. In Latin America, parts of Asia and particularly sub-Saharan Africa, the intensive cutting of wood is a major cause of the degradation of fragile ecosystems. Moreover, the smoke and carbon not only pollute our environment but also harm the health of housewives and children. If we do not find a long-term solution, we will witness a natural disaster caused by deforestation. Solar ovens are the best alternative, not only because they reduce deforestation, pollution and health problems, but also because they reduce poverty; a family that uses a solar oven spends less money on wood and charcoal, and could consequently spend more money on food and medicines."
What are the project's goals for this year?
"The project touches all layers of the population. Thanks to subsidies and financial support through microcredit programs, we can initially reach two-thirds of the population in the next two years, and the remainder in the years after that. The best thing about solar energy is that it's free and inexhaustible. The use of this energy will reduce daily household expenses by 30 to 50 percent. Solar energy also makes it possible to avoid domestic fire-related accidents and ensures sustainable development. We must convince as many people as possible that solar energy is an opportunity that we must seize from now on. The message that I always want to spread is that the sun is free and available, so why not use it to save our ecosystem and ensure our own existence?"